At this time we are out of the plug kits.
Our emergency plug kit was originally designed for Motor Homes but is usable on any type of vehicle giving you the ability to transport your vehicle for repairs without the annoying sound created when a spark plug is missing.
Motorhome publications have stated that everyone with a Ford Modular motor (4.6, 5.4, & 6.8) should have one of these in their glove box and can be installed by even a novice mechanic in just a couple of minutes.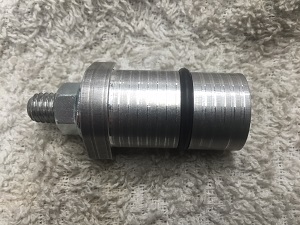 We are now shipping our updated version that is precision manufactured from 6061 aluminum. There is a flat side machined into the plug to assist in installation on most engines. on most engines the flattened side will wedge against the edge of the cylinder head so that the plug will not spin while tightening. The only tools needed for installation would be a standard socket and ratchet.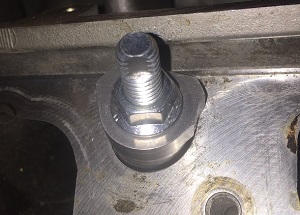 These have been redesigned with a high temperature and denser rubber o-ring to make installation and removal easier, the cross bolt is pressed into the lower so there is no possibility of it falling into the cylinder and causing any additional damage. They also come with a safety lasso.
BACKORDER !!!
*Emergency Plug will be shipped United States Postal Service Priority Mail to the lower 48 states for $10.00